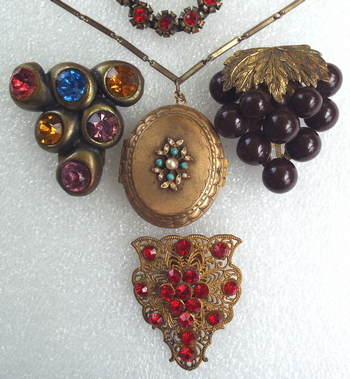 Wonderful 10 Piece Art Deco Jewelry Collection
Features various material which include glass, rhinestone, enamel, and celluloid along with various finishes as well.
There 3 large dress clips, one is a huge beautiful grape cluster with large glossy celluloid stones/ beads. Another is a Czech piece which has brass metal,
red rhinestones, and filigree metal; the other one is also very large and features big, faceted, jeweltone, glass stones.
There is a large locket which has tiny turquoise glass beads and tiny faux pearls decorating the front of it along with the original linked chain
which is rare to find altogether. A unique St. Augustine Florida tourist bracelet features hand painted roses on black enamel.
A smaller heart shaped pin features a large purple glass heart shaped stone in its center which is acented with extremely brilliant, clear, rhinestones.
There are 2 older brooches which date to the early 1900's or even late Victorian era since they have the old C clasp closure. One is the wreath shaped brooch with red rhinestones, the other is the round celluloid brooch with the scene featuring wild violets. It's a decal on celluloid showing the romantic "language of flowers" theme popular from that era. Victorian romance, so pretty! And the all gold toned brooch is a Victorian revival piece which truly looks like an authentic Victorian brooch. But it is from the 1930's era looking at its clasp. The large brooch with the orange glass cabs is striking in a starburst shape and 3D, domed, construction. Just a super cool design. The metal is dark and the melon colored marquise shaped stones really pop out against it. It has a gothic feel to it, what a great piece to wear! It measures 2~1/4" in diameter, love it!
All pieces are in very good vintage condition with patinas that are desirable in this old jewelry. All stones are very good - excellent. All are present and all, with the exception of the bracelet, have been gently cleaned.
A nice group to add to any Art Deco, Victorian jewelry collection, also super for photo shoots and wardrobe effects. Great for display too!
Enlarged photos show best details. Please mail me with any questions you may have.