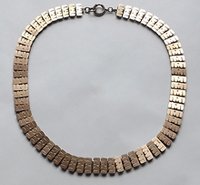 Gorgeous Antique Victorian Book Chain Necklace
Features rose gold filled metal with double sided, embossed, links. One side has a celestial design with small stars seen in each link. These links are open in the middle so this piece is not too heavy and quite comfortable to wear. It has a large simple spring clasp which can be worn in the front with a charm, pendant, or locket hanging from it.
The chain measures approx. 18~3/4" long x 1/2" wide.
Weighs 51.7 grams
It is in very good antique condition for a necklace from this time period with overall light patina and wear to the gold filled finish indicative of age. Nothing serious and quite normal. Unmarked.