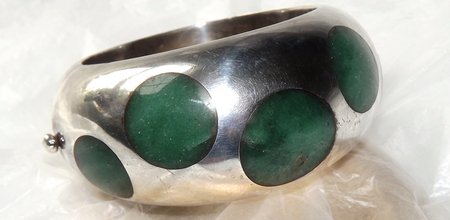 Fabulous Los Ballesteros Mexican Sterling Silver and Gemstone Bracelet.
An iconic design by Los Ballesteros.
1940's
Beautifully crafted, the polka dots vary in size which are inlaid making this a stunning, Modernist, hinged bangle. It is a very substantial piece, asymmetrical in shape, with the width on one side much wider than the other side. The center measures 1~7/8" (measured at the back with a hard tape) but approx. 2" wide at the front measured with a soft tape to get actual width that includes the domed design which is protrudes out at the front. Features amazing design and construction with large polka dots that are made with polished aventurine quartz. Has the safety chain and features a solid, securely locking, slide in closure. Hallmarked inside.
Fits a small wrist!
When closed, inner circumference measures approx. 6.5 inches. Inner opening diameter when closed measures 2~1/8".
It is in excellent vintage condition.
140.9 grams/49.7 oz.