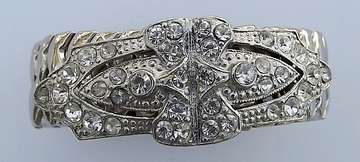 Occupied Japan: 1945-1952
Art Deco Expansion Bracelet
Unique Art Deco bracelet features a rhinestone centerpiece which was designed in the 1930's but added to this expansion bracelet at some point in time a bit later. It looks like a duette with clear rhinestones set throughout. It was professionally added to the expansion bracelet which is stamped "Occupied Japan"
All silver plated metal this bracelet is gorgeous, however it is very small. It fits my 6~1/4" wrist snugly and actually needs to be on a wrist that's even smaller. I'll say 6" and under. The inside opening measures 1~5/8". The Deco centerpiece measures approx. 2" across x 7/8" long
Excellent vintage condition! All stones are clear and sparkly, silver plating is intact. Beautiful!